Main content starts here, tab to start navigating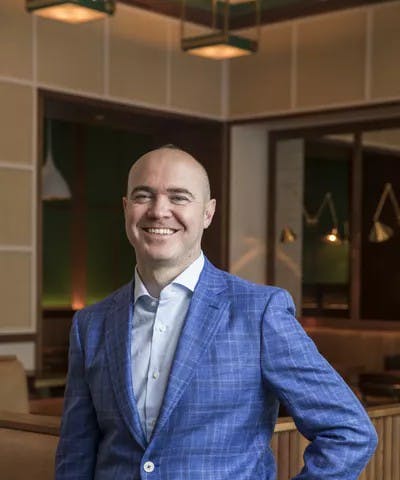 Robert Bohr
SOMMELIER / PARTNER
Robert Bohr has been at home in the hospitality business since age 14, when he started working weekends and summers at a local family-run restaurant, doing everything from cleaning to cooking to bussing. His varied early experiences taught him the basics of hospitality, the challenges and triumphs of the industry, what hard work looks and feels like, and, most importantly, that he had found an industry in which he excelled and that he felt passionately about.
Throughout his career, Robert has worked in and led several of New York's greatest wine programs, becoming one of the finest sommeliers in America. Today, as a Partner and Sommelier for The Delicious Hospitality Group, Bohr leads the hospitality team for their NYC restaurants Charlie Bird, Pasquale Jones, and Legacy Records. Delicious Hospitality's restaurants - which Bohr operates with partners Chef Ryan Hardy and Sommelier Grant Reynolds - are frequently heralded for their fascinating wine collections and praised often by collectors and media, receiving recognition in The New York Times, Wine Spectator, The Wall Street Journal and Vogue, among others. Bohr works on the floor regularly, interacting with guests and turning them into devoted customers, learning what they enjoy, and enhancing their dining experiences.
Professionally, Robert entered the hospitality business while supporting himself as a political science student at NYU, pursuing of his dreams of becoming a civil liberties attorney. He sustained his interest in food and wine by simultaneously working at Gramercy Tavern and getting an informal wine education. Working with Danny Meyer's team, Robert realized that the restaurant business could offer a strong career, and learned that a deep knowledge of wine would advance his professional opportunities.
After unexpectedly developing a burgeoning hospitality career, Robert accepted a full-time position at Babbo, where he showcased his extensive Italian wine knowledge. Robert subsequently became a Sommelier at Daniel, where he refocused his education on France and fine dining service skills. In 2004, Robert took his experiences in hospitality, business, and dining-room-savvy, and paired them with his own voice and personal flair and became wine director, general manager and partner at CRU, overseeing a program of 4,000 selections and 120,000 total bottles of the world's finest and rarest wines. Under Robert's helm, CRU received some of the industry's most prestigious accolades, including winning the Wine Spectator Grand Award for New York from 2005-2010, three-stars from The New York Times and one Michelin star.
Robert also has a private wine consulting business focused on educating clients and helping them grow their collections and wine knowledge.